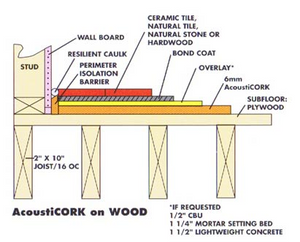 AcoustiCORK Underlayment - 2.5 mm
AcoustiCORK Products are recognized in the building industry as some of the most effective sound control and crack suppression underlayments used under had surface floors. Residential and commercial high-rise complexes such as condominiums, hotels and motels throughout the United States, Canada and Europe have used Acousticork products to reduce unwanted noise.
Acousticork Products are designed to meet building codes and condominium association requirements for floor/ceiling assemblies using ceramic tile, marble, stone or hardwood floors.
Acousticork Products have been tested in accordance to ATSM standards for acoustical values at Riverbank Acoustical Laboratories, an independent laboratory accredited by the National Bureau of Standards of the U.S. Dept of Commerce, NVLAP.
Part of the natural attraction of Acousticork Products is the working ability to install the product and immediately move on to the next installation step with no waiting time. With Acousticork Products you are guaranteed consistent thickness of the sound control underlayment without trowel leveling of products that are mixed on site. The consistent thickness ensures a quality sound rated floor system.
---
We Also Recommend
---