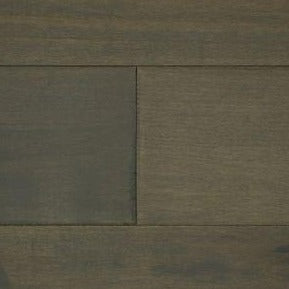 Capri - NAF T&G Engineered Handscraped Maple - 6.5"
NAF ENGINEERED HARDWOOD HANDSCRAPED 
MAPLE (T&G)
Combining strength and beauty, maple has a delicate, tight grain and a naturally light colour tone. With a Janka Scale hardness rating of 1450, maple is harder than other indigenous North American woods such as oak, providing durability and long-lasting qualities. Indeed, combining stunning looks with its natural, hard-wearing characteristics, maple has been the commonly used hardwood surface for basketball courts for over a century. As a native species, maple is also abundant and grows relatively quickly. This makes maple one of the most environmentally conscious choices. We offer a 30 year residential warranty with this product. 
Engineered wood flooring is constructed to provide increased stability and moisture. The top layer is a thin sheet of natural wood and the core is constructed of layered plywood.  Engineered Wood floors were developed for use over concrete slabs, but can be nailed down over a wood subfloor. The newest, thinnest engineered wood flooring use an advanced tongue-and-groove click system that locks them in place. These floors can be placed over a underlayment or directly over an older floor. This type of flooring can be used almost anywhere, on, above or below grade. 
Durability
Engineered hardwood floors are built with stability and resilience in mind. They combine alternating layers of plywood with a solid layer of natural solid hardwood on top, and a stabilizing veneer underneath. The plywood core allows the floor to expand and contract naturally. As a result, engineered flooring provides better resistance to temperature variations and moisture than solid hardwood, while still providing you with the benefits of natural hardwood.

Selection and Style
Due to the increased stability, engineered hardwood flooring allows for wider plank widths than you'll typically find with solid flooring. NAF Engineered Hardwood Handscraped comes in 5" & 6.5" widths, giving this traditional yet timeless floor a modern look. The handscraped planks to give a depth of texture and character to your floor and helping it to stand up to kids or pets.

Environment and Health
NAF Engineered Hardwood Handscraped meets standards for the release of toxic gasses such as formaldehyde, making it better for the environment and your health. Using oak as your choice of hardwood is also beneficial to the environment as oak has a smaller carbon footprint than most other hardwood options.

Installation
Engineered wood floors can be installed almost anywhere above or below grade, and on top of most types of subfloor. With an advanced tongue-and-groove click system, NAF Engineered Handscraped Maple is simple to install, although it can be nailed down over a wood subfloor if you wish. The product can be installed over an underlayment such as our HUSSSH! I & II series of underlayment.
***FAW 088 is the only recommended Adhesive / glue for Engineered Hardwood Flooring, otherwise warranties will be void***   
 
| | |
| --- | --- |
| Colour Name | Capri |
| Collection | NAF T&G ENGINEERED HANDSCRAPED MAPLE |
| Dimensions | 6.5" (165mm) x 18mm x 1800mm (80%) |
| Thickness | 18 mm |
| Width | 6.5"/165mm |
| Top Layer Species | Maple |
| Veneer/Top Layer Thickness | 2mm |
| Length | 1800mm |
| Texture | Handscraped & Distressed Grade |
| Bevel | 4-side Bevel |
| Package | 19.18 sqft/box |
| Locking System | Tongue & Groove |
| Recommended Glue | NAF Adhesive 088 |
| Installation Options | On, above, or below grade |
| Warranty | 30 Years Residential |
---
We Also Recommend
---